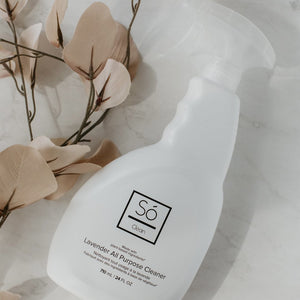 Só Clean - Lavender All Purpose Cleaner naturally fights grease, dirt and grime on all of your home's hard surfaces while gently scenting the air with lavender. This plant-powered cleaner can be used on sinks, appliances, counters, floors, walls, bathtubs, toilets and more to make cleaning a breeze.
Every product in the Só Clean line is made in Canada with plant-based ingredients that are safe to use for you, your loved ones and Mother Earth too.
* Biodegradable * Phosphate-Free * Dye-Free * Septic Tank + Grey Water Safe *
Directions: Turn the nozzle to spray soiled surfaces before wiping them clean. For heavily soiled surfaces, allow to sit for 30 seconds before wiping clean. Rinsing required when used on food contact surfaces. On painted surfaces, be sure to spot test a small area first.
One Size - 710 ml/24 oz 
Ingredient

Function

What is it

Source

Aqua

Diluent

Water

Water

Denatured Alcohol

Solvent +
Cleaning Agent

Alcohol to aid drying

Plant-based

Laureth-7

Surfactant

Cleaning agent

Plant-based

Eucalyptus Globulus Leaf Oil

Scent

Essential Oil

Plant-based

Lavandula Hybrida Grosso Herb Oil

Scent

Essential Oil