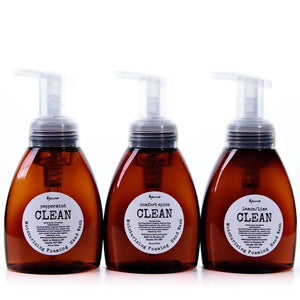 Washing your hands is all the rage. Our gentle, moisturizing soap uses essential oils for subtle scents, and leaves your hands feeling smooth and clean.
We know you've tried so many hand soaps, and we hope this is your new favourite. With 500ml refill bottles available, we make it easy to keep your hands clean.
All natural, non-toxic, and moisturizing, this foaming hand wash dispenses just the right amount for each wash. Made with organic ingredients, naturally anti-bacterial organic essential oils give you a choice of three great scents, Peppermint, Lemon/Lime, or Comfort Spice.
Or try Life Lather, available in sweet orange. For each Life Lather bottle sold we donate $5 to Acts of Water.

Ingredients: Purified water, organic castile soap, pure organic essential oils.