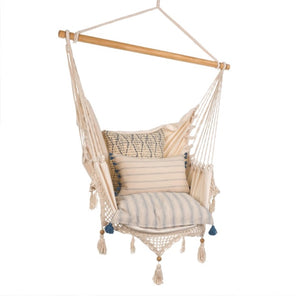 ALSO AVAILABLE CURB SIDE PICKUP EMAIL thecottage.boutiquechilliwack@gmail.com (takes 3-5 business days) 
Crocheted Chair Hammock(no pillows)
Made in El Salvador, this handmade cotton twine hammock chair is a bohemian dream. This romantic hammock features crochet tassels and wooden bead detailing and is fully functional and well built. Ideal on a porch, inside a room, outside in the garden.

Made in El Salvador
Body can be hand washed or machine washed after the wood bars are removed and placed in a washing machine bag.
Maximum weight load when hung correctly 265 pounds.
Does not include pillows/accessories.
COTTON
PINE
POLYESTER
LENGTH:

50.0


WIDTH:

49.0


HEIGHT:

0.00