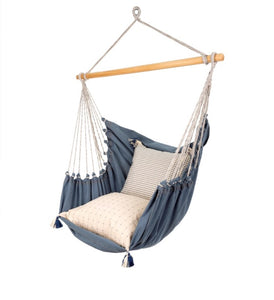 ALSO AVAILABLE CURB SIDE PICKUP EMAIL thecottage.boutiquechilliwack@gmail.com (takes 3-5 business days) 
Denim Hammock Chair (no pillows)
This beachy hammock chair is made with 80% recycled denim threads (from denim cuts waste) and natural cotton. In the making of this fabric, 20,000 liters of water are saved. The denim swing chair has a pocket (like a denim jean), large enough for your IPhone, book, or glasses. Stitches are also made like in jeans. The fabric is very soft.

Made in El Salvador
Body of hammock chair can be washed at 30 C
Does not include pillows/accessories.
Holds up to 310 pounds when hung properly
COTTON
PINE
LENGTH:

60.0


WIDTH:

50.0


HEIGHT:

60.0