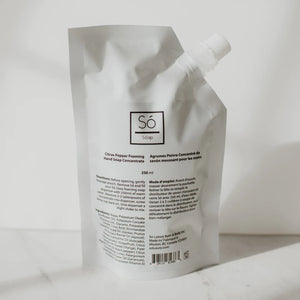 Our all-natural Foaming Hand Sóap Concentrate is a gentle and effective hand cleanser. Over 5 refills for your Glass Foaming Sóap Dispenser per pouch!  How can we fit 5+ refills in this small pouch?  Simple, we're not selling you water - you can get that from the tap for free!  Our concentrated formula reduces packaging and shipping costs as well as our carbon footprint.
We've formulated the perfect blends of essential oils to be naturally antimicrobial and together with the extra hydrating oils to keep your hands soft, this will be your new favourite hand sóap.
For Eczema and other skin conditions we recommend the Sóap - Foaming Hand Sóap Concentrate (Unscented).